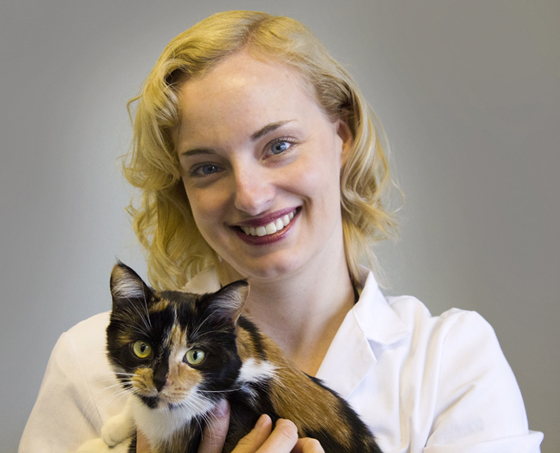 Dr. Kendra Long  DVM
Dr. Kendra Long graduated from the Ontario Veterinary College in Guelph and has been practicing as a small animal veterinarian until realizing her dream of owning a feline-only hospital.
Cats and their owners appreciate a friendly environment free of noisy, barking dogs. Dr. Long's areas of interest include geriatric medicine, pain management, dermatology, dental care and surgery.
Outside the clinic, Dr. Long enjoys traveling, water sports, playing the piano and reading novels. She currently lives in Brampton and has two fantastic, feisty calicos named Gwendalyn and Julia.
Nicolo Piscitelli  RVT
Nicolo started working with animals as a co-op high school student in 1999. Nicolo studied biology at the University of Guelph, where he received a Bachelor of Science. He continued his education and graduated from the Veterinarian Technician program at Seneca College. Since then he's been working with animals.
He started his career in the GTA where he worked in small animal practice and an emergency hospital. He enjoys the nursing aspect of veterinary medicine and helping animals recover from illnesses.
Nicolo has shared his home with rabbits, mice, hamsters, gerbils, cats and dogs. Currently he has a 6 year old Golden Retriever called Brandy and a 14 year old cat called Kit.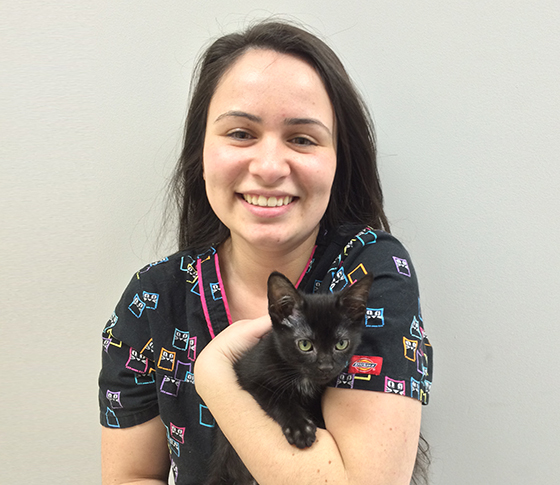 Sarah Nemi  Veterinary Technician

Sarah has recently graduated from the Veterinary Technician program at Sheridan College. Prior to completing the technician program she gained experience working as a Veterinary Assistant at a small animal clinic, wildlife rescue centre and humane society over the past 6 years. Sarah has been a cooperative education student at the Cat Hospital for the past 2 years and has now become a member of the team. She has always had a love for animals, especially the feline friends. In her spare time she enjoys fostering cats or kittens that are in need of special care. Sarah lives in Bolton with her 3 cats Simon, Toby and Henry.
Gwendalyn
Gwendalyn was about 3 weeks old when she was found abandoned and emaciated at a construction site in Brampton. Gwendalyn soon proclaimed her Royalty and lapped up the love, attention and of course food!! She has been one happy cat with Dr. Long who continues to marvel at her intelligence.
Julia
Julia was found in a cardboard box at the back door of the veterinary clinic where Dr. Long was working, along with her 5 kittens who were 3-days old. A note was found in the box that explained this loving feline family was going to be killed by the farmer. They all had upper respiratory infections and needed a great deal of love and medical attention. After approximately 2 months, the feline family was nursed back to health, captured the hearts of many and soon found their forever homes. Julia found a buddy in Gwendalyn and they have been inseparable every since.
Comment on this post